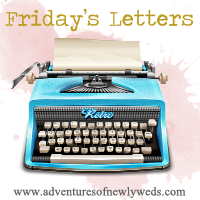 Today I am linking up with Ashley@
Adventures of Newlyweds
for Friday's Letters.
Dear Ashton Knight,
I HATE that you are going to your dad's today. I don't mind you going every other weekend, but you are leaving for the ENTIRE month of July and I am not a happy momma. I am going to miss you like crazy. My whole world revolves around you, and when you are gone I don't know what to do with myself. My only saving grace is I will be able to talk to you on the phone. Please be safe. Don't do anything that I would not allow you to do. Say your prayers every night. And MOST important...Remember that I love you so much and will be missing you every day that you are gone. July 31st can't get here fast enough.
Dear Craig,
You are going to have my son for a month. You BETTER take care of him like I would. Don't let him go to far out if yall go to the beach. Remember that he does not like scary movies so don't let him watch any. YOU better not wait 14 days before you let me talk to him again this year! That was just cruel and mean. We have been getting along a lot better lately so I hope that you will be better about letting me talk to Ashton. Our son is my world and I need to know that you will care for him as good as I do.
Dear Magic Mike,
I will be spending time with you tonight and I can't wait. I hope your story line is good....LOL who am I kidding I just wanna see Channing Tatum half naked!! WOO HOO!!!
Dear Melissa,
I am glad that we have started to hang out. It is nice to have a friend to go out with and one that is as crazy as I am.
Dear Mosquitos,
I say this in the nicest way possible, but can you all please GO AWAY!!! I can't walk out my front door without being attacked. We are having a big 4th of July party so be gone by then....thanks!!
I am also gonna link up with Jeannett@
Life Rearranged
for Insta-Friday. If you are part of Instagram follow me@
Pinkteacups
and I will follow you back.
Melissa and I
Weeee on swings at Pleasure Pier in Galveston.
Fireworks for our 4th of July party.
HELL YEAH!!! Ha ha GOOOOO TEXANS!!
Petting stingrays on the Kemah Boardwalk.
Bored....we were stuck in the parking garage for 45 minutes
Love him!!
Xander and Ashton at the zoo.
Oh ya know just hanging out with the chimps.
Playing the drums.
My stickers for my car.
"Aunt Dani do I look famous??" LOL my nephew is a crazy kid.
Best cousins and best friends.