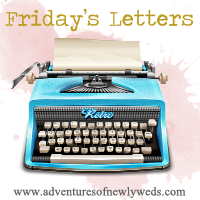 Today I am linking up with Ashley@
Adventures of Newlyweds
for Friday's Letters.
Dear Blog,
I feel guilty because I have not been writing in you really this past week. I am sorry and I promise to make it up to you.
Dear Ashton,
I love you so much but if you don't stop asking me to take you to the store every 3 minutes then mommy is gonna throw you in the pond....just sayin.
Dear Peanut Butter,
Why do you have to taste sooooo good? I do so good on eating right and then BOOM you call my name from the kitchen and beg me to just take a little bite. I am to weak to tell you no. Well I am gonna get stronger! We are gonna have to break up. I am sorry.
Dear Texas,
It is summer....I get it...but come on lets calm down with this heat a little bit. I can't even walk to my car without sweating....and I can't do a thing with my hair because the humidity is so bad.
Dear Redbull Zero,
I am trying to love you....but it is hard. I will keep trying.