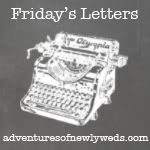 Dear Sponsors,
I can't wait to get to know ya'll better and introducing ya'll to my readers! Thanks so much for sponsoring me.
Dear Mooch,
You are a spoiled rotten dog and I don't think I could love you anymore than I do. You are such an amazing and sweet dog.
Dear House,
Please be as awesome inside as all your pics are. I would love to live in you. FINGERS CROSSED!!
Dear Kinesiology,
You are going to kill me. Please get easy so I can actually understand you! Thanks so much!
Dear Pinterest,
Thanks so much for all the awesome ideas! I am excited to do projects this weekend.
Dear Lestar Jean,
OMG!!! Thanks so much for not only "liking" my instagram pic, but commenting as well!! You have totally made my year. Talk about a total geek out moment! Lestar Jean is a wide receiver for the Houston Texans and he is one of my favorite players!
ljean3 is Lestar Jean!! Not kidding when I say I jumped up and down when I saw this!!