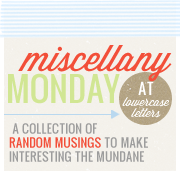 Since I am jumping right in I decided to do Miscellany Monday. It is from lowercase letters blog and I thought it would be fun.
1. I am excited that I get to fill out paper work for Monkey's school. I love doing it.
2. I spent a lot of time learning about blogging and how to make mine great.
3. I am sitting here watching Monday Night Football by myself.
4. Speaking of football I can't wait until regular season starts. I have tickets for 2 games this season. Go Texans!!
5. I spent the weekend with my wonderful boyfriend. I love spending time with him. I am finally happy and it feels amazing.