Today I am linking up with Erin
@Living In Yellow
for A Blogger Crush link up!
Everyone has those certain bloggers that you just can't get enough of! I know that I sure do! These are girls that even if I don't blog that day, I always go and read their blogs. Sooo are you dying to know what bloggers I am crushing on?? Well here they are in NO particular order cause I love them all.
Steph from
Bourbon and Glitter
!! This girl is great! She has so much fun and I love reading all about the things that she does. She is the kind of girl that I would love to hang out with. I know that her and I would have a blast together. We could dress up and go on a bar crawl...haha wanna know what I am talking about?? Well go check out her blog!!
Sarah from
Love, Sarah K
!! I love this girl!! She is my texting buddy and I will one day meet her...hopefully soon! She has a great blog and always has a great attitude. She has supported me since I met her and is one of my biggest bloggy cheerleaders!
Ruthie from
The Chronicles of Ruthie Hart
!! She is a wonderful woman of God. Her and her husband are expecting their first child, although they already have an adorable fur child named Ernie. I love reading Ruthie's blog because I love how in love she is with God. Her blogs put me in a great mood when I read them, they are always so positive.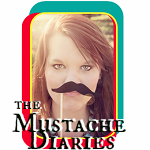 Marcy!!! I go and read the amazing Ms. Marcy from
The Mustache Diaries
for my daily dose of laughter!! This is one funny funny woman! I am really happy for her right now because she has started to work out and is ROCKING the weight loss!! I need to get my ass in gear and get motivated like she is. I promise you will laugh while reading her blog. I love how open and honest she is! She will tell you how it is and doesn't care what anyone thinks.
Whitney from
I Wore Yoga Pants to Work
is my favorite wine drinking Floridian! Whit is someone that I have "known" for several years. She is an amazing woman and blogger. She is going to be a reality show star some day soon....and I will watch every episode. I adore Whitney and her blog.
Well there you have it! Those are my bloggy crushes. I have more, but it would take a long time to write about them all. I hope that you will check them out!!