First things first because I know a lot of my friends do Instagram...There is a blog hop for instagram and the prize this week is amazing! So ya'll should go on over there and sign up!!
Today I am linking up with
Mamarazzi
for her Happy List!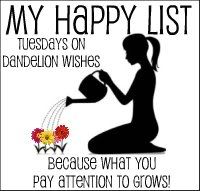 Here are a few things that are making me happy this week!!
These 2 wonderful boys fill my heart with joy. For those of you that don't know the bigger one is my son Ashton, and the little guy is my nephew Xander. And even though they fight like cats and dogs, they love each other very much and just make me happy.
Hanging out with those 2 guys really made me happy!! The first guy is a man named Dwayne Dopsie, and he is the accordion player and lead singer for a Zydeco band called Dwayne Dopsie and the Zydeco Hellraisers. They play in New Orleans and anytime they come to Houston we go and see them...we have actually made a trip to NOLA just to see them play!!
The second guy is Speedy, and he is the washboard player for the band. I had a great time hanging out with them.
I had a surprise phone call about 10 minutes ago from my very best guy friend from Australia!! I have not talked to him in a long time so for him to call me this morning has totally made my day!!
So what do you have to be happy about this week??