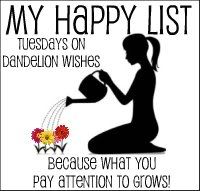 Happy Tuesday!! I am linking up with
Mamarazzi
for her Happy List today!
I am so happy that Ashton's little league team won last night! He has been in baseball for 5 years and has never played in the Championship game.....well tonight for the first time ever...he will be playing for the LL Championship!!! It was such a great game last night! His team won 7-0 against the 1st place team!! A team that we had never beat until last week in the second game of the playoffs. The boys are so excited and so are the parents.
I am happy that I have such a wonderful boyfriend. He is helping me a lot while I am not working. He is keeping my spirits up and I love him for that.
I am SUPER happy that I am going to spend some time with my Mamaw and Papaw! I have not seen them since January and it was not exactly a happy time. I went to visit them in the hospital after my Papaw had surgery to remove part of his colon. He
has
HAD stage 3 colon cancer and they had to take it out. I am super close to my grandparents and I miss them like crazy.
Since I am also doing a Instagram blog hop, I thought I would post a few pics from my instagram...which you should all follow me!!
@pinkteacups
These are all of my rockin "little" man Ashton Knight #10!! BTW I saw little but he is 5'0 and I am 5'3.....lol he is not exactly little! He will be taller than me in no time.