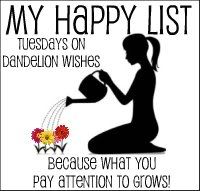 Happy Tuesday!! I am linking up with
Mamarazzi
So here is my Happy List for the day!
1. I am happy that my wonderful boyfriend enrolled into culinary school today! Yay! He starts in August and I can't wait to taste all the yummy food he makes!!
2. I am happy that I am actually thinking about going back to school also. I really want to get my degree that I started so long ago.
3. I am happy that I have a wonderful son and even though he makes me crazy I still love him to pieces.
4. I am happy that I had an interview yesterday and I have high hopes of getting the job.