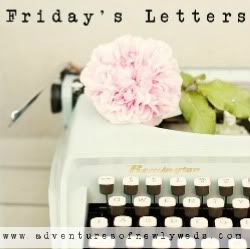 Happy Friday everyone!! I hope that your week was great!! Today I am linking up with
Ashley
for Friday's Letters!
Dear Twitter,
I sometimes forget about you and I am sorry about that! So I have made a new name and I am starting over. My new name is @dani_whitehall and I promise to be using you!!
Love,
Shameless Twitter Plug
Dear Texas Weather,
You feel amazing today! Could you please stay like this for awhile! Stop teasing me with the cool fall weather for a few days just to go back to blazing hot and humid temps!
Love,
A Texas girl that loves the cold
Dear Texans,
I am not mad or even upset
anymore
about your loss to the Packers. Now that ya'll have lost a game and the pressure of being undefeated is gone lets get back to the AWESOME team that I know ya'll are! Ya'll play the Ravens this week and lets call this game revenge for the playoff game that they won against us. Get out there and kick butt!!
Love,
A Huge Texans Football Fan
Dear WONDERFUL Son,
I love you with all my heart and you know that!! BUT if you don't stop thinking up mystery illnesses EVERY morning when you wake up for school I am going to
sell you to the highest bidder
scream!! Dealing with "I'm sick" every morning is really getting old. You have 6 1/2 years of school left....time to just get used to it!!
Love,
Your loving mom
Dear Boyfriend,
You are awesome. Thanks for putting up with my quirks and random outbursts. LOL it takes a special man to put up with me and you are doing great!
Love,
Me
Dear Friends,
You are all amazing. I am lucky to have such great friends!!
Love,
Me