It is safe to say that I have fallen in love with the blogging world! I have also made several friends that I feel close to.....fingers crossed that they like me as well Hahaha! I wanted to make this post about the friends that I have made. They have no idea that I am even doing this, but honestly if you are not already friends with these ladies you should be!!
Sarah from
Love, Sarah K
has quickly become one of my very best bloggy friends! She is funny and so very sweet. Her and I text back and forth quite a bit and I just adore her. I will be meeting her hopefully sooner than later. I can't wait to meet her because I know that we are going to get along great! I promise this is one girl you won't regret following! Here are a few ways to follow her.
Facebook
Twitter
Whitney from
I Wore Yoga Pants to Work
has been one of my friends since Livejournal was super cool and trendy. Ha ha she is pretty much amazing! She is my favorite wine drinking, disney loving, fur baby mommy I know. She has two of the most adorable puppies in the world! If you want non-stop laughing you need to follow her! She will teach you the art of wine drinking, weaves, and wearing yoga pants!! Oh and if you think her blog is funny then you HAVE to follow her on Twitter cause the girl is hilarious!
Facebook
Twitter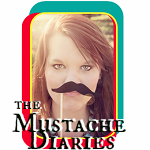 Marcy from
The Mustache Diaries
is freaking amazing! She is a non-filtered wine drinking momma and I love her! When I want to laugh my butt off I just hop on over to her blog and read it. She will have you rolling! Her drunken vlog was one of the funniest things that I have ever seen. If you don't laugh your butt off at her blog then you just don't have a sense of humor! Ha ha ok you might but still go check her out!
Facebook
Twitter
So now you have met 3 of my bloggy friends! Go and check them out! I promise you won't regret it! And have a very happy Wednesday!!