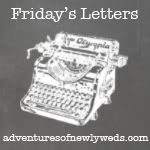 Today I am linking up with
Ashley
for Friday's Letters.
Dear Headache,
I went to sleep with you and woke up with you...it is sweet of you to be so attached to me but could you please GO AWAY?!?! Thanks so much!
Dear Ashton,
I am so proud of you for making such a great grades. Your teachers had wonderful things to say about you, and that makes momma so proud! You are an amazing child and I am so happy that you are my son.
Dear Anatomy notes,
It would be awesome if I could learn you through osmosis.
Dear East Coast,
I can't believe all the damage that Hurricane Sandy did to you. I am so sorry and I am still praying for you!!
Dear Christmas,
Hey I haven't done any shopping at all so could you do me a huge favor and not come so quickly. I still have a 10 year old to buy for....and he wants several things. Thanks!!
Dear Santa,
It would be awesome if YOU could provide for my 10 year old this year! I am just saying I am tired of picking up your slack!