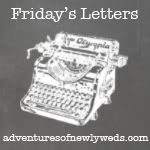 Happy Friday!! I hope that ya'll had a great Thanksgiving. I am linking up with Ashley
@Adventures of Newlyweds
for Friday's Letters.
Dear Stores,
I will not be visiting today because I don't feel like fighting crazy crowds. Sorry I will just wait for Cyber Monday! But I do kinda wanna go out....hmmmm lol we will see.
Dear Thanksgiving,
Yeah thanks for the food coma yesterday! Now I am ready to eat left overs for the next week. HAHAHA
Dear Engagement Ring,
You are beautiful and amazing and I can't stop looking at you! I love the way you sparkle and shine. I am never going to get tired of you!
Dear Duck Dynasty,
I can't get enough of you! I can't help it, I love the beards! Uncle Si and Jace crack me up every week. New goal in life is to meet the Robinson clan!!
Dear Christmas Music and Shows,
WOO HOO!!! I love this time of year! Bring on the happy songs and shows!