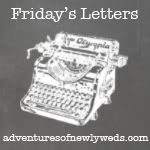 I am linking up with
Ashley @ Adventures of Newlyweds
for Friday's Letters.
Dear Xander,
You know that Aunt Dani loves you so much, but tonight can we sleep in the camper and not the tent? I mean honestly everyone else is going to be in the camper and I think we should join them!
Dear Starbucks,
We need to have a date this weekend. I need a white chocolate mocha with peppermint in my life!
Dear Christmas Shopping,
Could you do yourself this year? And while you are at it just pay for yourself as well. Thanks!
Dear iPhone,
I love you, but I am gonna need you to start working before I throw you off a bridge! I am so tired of you screwing up.
Dear Boyfriend,
I am ready for another fun weekend with you!! I love you so much.
Dear Ashton,
Thanks for being awesome this week! I love you to Pluto and back!